Save Money and Time! The Best Woodworking Resources For All Woodworkers! Beginner, Intermediate or Expert Level
There are woodworking magazines, videos, blogs, podcasts… all screaming at you get this, buy this, try this, watch this, etc. But you don't want to waste your time getting a bit of good information here and there about woodworking. If you're like me, you just want a place where you can find all the woodworking resources you need for your next woodworking project.
And that's why I decided to create this post about woodworking resources. Whether you're just looking to get started on your first woodworking project, or to save time and money on your next woodworking projects, or to sell your beautiful coffee tables, this post will offer you the best woodworking resources.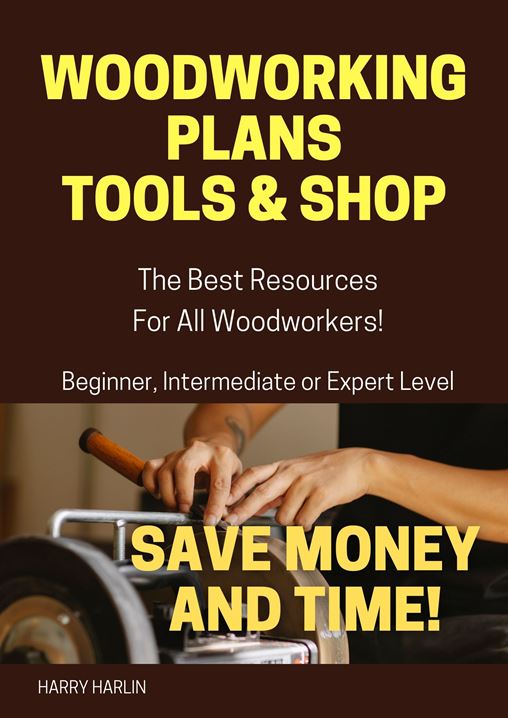 I'm passionate about woodworking myself and together with my like-minded friends, we've explored many books and courses on this topic, and now that we know what's the best, we made a list and I put it here, on the woodworking resources page, along with every bit of information you need to decide what will work best for you. I also included the links where you can either legally download stuff for free or buy some products. Some links are affiliate links that will offer you the chance to buy the products mentioned here at a much lower price than what's normally being advertised.
With that being said, I hope the information in this post will help you make your dreams come true, because woodworking is one of the most useful and satisfying skills in the world!
Woodworking Resources – Summary
1. Free Woodworking Guide + 40 Free Woodworking Plans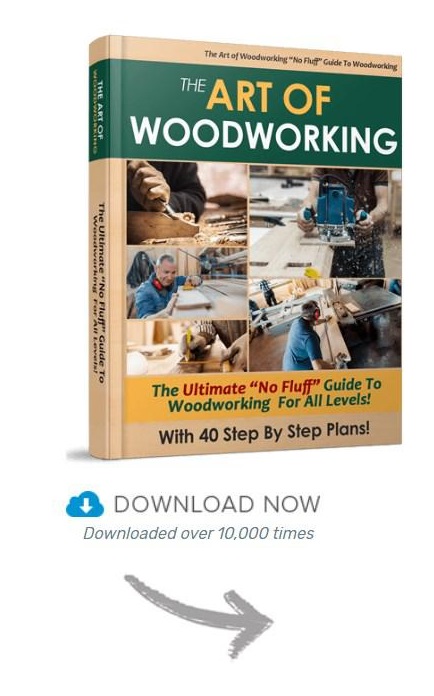 Contains:
Workshop Essentials
Setting Up Shop
Safety Equipment
Tips for Dust Collection
General Tips for Shop Tool Maintenance
Defining Hardwoods & Softwoods
Buying Lumber
Common Hardwoods
Common Softwoods
A. Measuring, Marking & Layout

Tip for Scribing and Laying Out
Tricks for Measuring & Layout
Drawing Curves & Arcs
B. Cutting

Choosing & Using Handsaws
Band Saw & Jig Saw Blades
Cutting with Circular Saws
Two Techniques for Making Plunge Cutouts
Tips for Cutting with a Power Miter Box
Resawing Stock on a Band Saw
Tips and Techniques for Using Your Table Saw
Cutting with Wood Chisels
Cutting Project Parts
Making Rip Cuts
Rip Cutting with a Circular Saw
C. Wood Joinery

Joinery: Casework vs Furniture making
Butt Joints
Biscuit-Reinforced Butt Joints
Dowel-Reinforced Butt Joints
Dado & Rabbet Joints
Tongue & Groove Joints
Cutting Dovetail Joints by Hand
Cutting Finger Joints with a Jig
Making Mortise-and-tenon Joints
Lap Joints
D. Drilling

Guide to Common Drill Bits
Helpful Drilling Guides
E. Shaping

Thickness Planing with a Hand Plane
Follow the Grain as You Plane
Traditional Shaping Tools Have a Place in Any Shop
Working with Routers
F. Clamping, Gluing & Fastening
Choosing Adhesives
Clamping & Gluing Techniques
Gallery of Clamps
G. Sanding & Finishing

Sanding Strategies
Sanders & Sanding Blocks
How To Make Custom Sanding Blocks
Cabinet Scrapers
Plugging Screw Counterbores
How to Revitalize Hardened Paintbrushes
Using Chemical Strippers
A. Indoor Furnishings and Accessories

Plant Stand
Library Bookends
Oak Cabinets
Magazine Rack
Night Stand
Wall-hung Coat Rack
Mantel Clock
Oval Picture Frame
Display Cabinet
Shaker-style Keepsake Box
Jewelry Box
Inlaid Tea Tray
Corner Cupboard
Collapsible Band Saw Basket
Spice Shelves
Crosscut Trivets
Recipe Holder
Knife Storage Block
B. Just For Kids

Kid's Wall Clock
Building Blocks
Basic Bookcase
Schoolhouse Desk
Double-drawer Chessboard
Domino Set
Booster Bench
Kid-size Picnic Table
C. Outdoor Furniture and Accessories

Planters
Day Tripper Chair & Table
Basic Adirondack Chair
Teak Cocktail Table
Porch Glider
Porch Swing
Full-shelter Doghouse
Garden Bench
Potting Bench
Patio Table & Chairs
Picnic Table & Benches
Sun Lounger
Cedar Bird Feeder
D. Shop Projects

Workbench
Deluxe Tool Chest
This entire guide can be downloaded for free here.
---
Back to Summary (Top of the page)
---
2. Unlimited + Custom Woodworking Plans
Tedswoodworking: The World's Largest Database for Woodworking Projects
As a woodworker, you may have realized that finding the right detailed plans to build some custom projects to meet specific needs can be very difficult. This is among the most common problems woodworkers face today, but luckily for you, this and other related problem shouldn't bother you.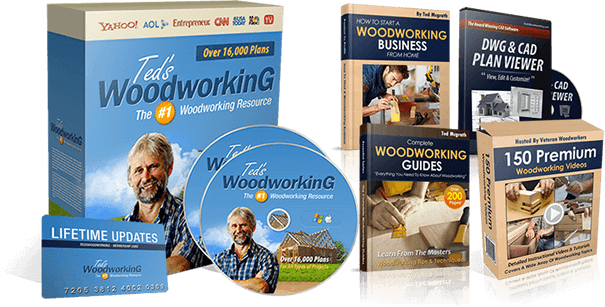 At TedsWoodworking, Ted McGrath, a certified master woodworker, trainer, and author gives more than 16,000 plans, with step-by-step blueprints for various woodworking projects.
So what's TedsWoodworking all about?
Building complex projects or even the simple ones to meet specific needs can be very difficult even to experienced woodworkers especially when you can't find a detailed plan. And most of the so-called "step-by-step" guides found online and in various magazines make building some projects harder than it should be. This is because the plans are sometimes not specific enough or their instructions leave out crucial information assuming that you have enough experience to know what to do.
In addition, often such plans don't have enough detail. For instance, some don't include pictures or the pictures they have don't match what they are telling you. Still, some don't even include cut sheets, so you are forced to "guesstimate" materials.
Ted McGrath spent over 25 years studying these problems and finding solutions. He put together a comprehensive collection of wood-working plans. Tedswoodworking.com is his website which offers woodworkers solutions to various woodworking problems, especially those related to finding the right plans for various projects. The site has detailed plans for over 16, 000 projects. Every plan comes with a step-by-step blueprint to make it easier for you to create stunning, professional wood-working projects hassle-free, quickly, and easily.
Who is TedsWoodworking for?
If you are a woodworker looking for detailed plans to start building your dream projects, or if you want a variety of plans for various unique projects, then TedsWoodworking has you covered. The website has helpful insights for both beginner woodworkers and the more experienced ones.
Why you should check this out
Occasionally, you are presented with a challenging project, for instance, a customer comes and wants something custom-made for them. Without having a detailed plan, it may be very difficult to build such projects quickly and be able to meet your customer's needs. TedsWoodworking comes in handy, providing you with a variety of plans with complete easy-to-understand instructions.
You will also get new insights and learn new tricks of completing projects even if you do not have expensive tools or a large woodworking workshop. And given the wide range of projects and complete plans available on the website, you no longer need to spend days or months looking for someone to complete a project for you. You will build even the most challenging projects yourself.
Here are a few things the site has to offer:
Easy-to-understand step-by-step instructions; Every plan has simple "hold-you-by-the-hand" instructions that will assist you to complete your projects quickly.
Materials and Cutting lists ensuring that you get the right materials and make correct cuttings. This saves you a lot of money.
You get sharp, colorful and detailed schematics. No guesswork is involved, you will know what to do and how to do it and complete your projects within the shortest time possible.
The plans give you views from all angles. You will see how everything should look like before you start building. The intricate details for every joint, angle and corner make sure you are not left guessing.
Various lists of plans (16,000+). In addition, you will also get new plans every month for free.
The plans cover all levels of competence and skills. You don't have to be an expert woodworker or have expensive tools and machinery to use the plans.
Whether you are a pro woodworker, an amateur, or a beginner with hand tools, you will find several projects suitable for you.
Disadvantages
Although TedsWoodworking has a lot of good things to offer, it has also some flaws. Since this contains thousands of plans, it takes time to download it, particularly if your internet speed isn't up to mark.
Nevertheless, this disadvantage may be nullified if you choose the DVD version of Teds Woodworking. You'll have every plan in a portable DVD and you don't need to spend time in front of your computer to download the pack.
But, if you pick the DVD version, you'll have to wait several days for the shipping. Aside from that, organizing a total of 16,000 plans isn't a simple task. You do need to utilize the search option to locate the plan you're looking for.
Why Should You Choose Teds Woodworking?
If you are planning to purchase 16,000 plans individually, it'll cost you loads of money. However, Ted is offering everything for a limited launch price.
Thousands of woodworkers are using his plans to create awesome stuff out of wood. It's now you turn to get in on the action
So check it out with the link below:
GAIN INSTANT ACCESS TO TEDSWOODWORKING PLANS
---
Back to Summary (Top of the page)
---
3. Set Up Your Workshop for Under $1000 And save Money on Tools!
Is it possible to set up a shop for under $1000?!
Yes, it certainly is possible.
The secret is to know:
WHAT tools you really need (so you won't waste your hard earned money)
WHY do you need each specific tool (so you'll get only the tools required for your project)
WHERE you can buy them at ridiculous prices (discover my secret supplier list…)
That is where Ralph's new guide: Ultimate Small Shop comes in.
Set up the Ultimate Small Shop for under $1000 here
And the most important part of this guide is:
A List Of The Absolute BEST Tools To Get… and WHERE to Buy Them For The Cheapest Price Possible
Once you have this list… you won't have to spend anymore of your precious time researching tools… and more than that… you're going to save yourself hundreds or even thousands of dollars in the long run by buying the best tools from the start.
And inside this guide, you'll discover exactly what to do to set up a functional and well organized shop for under $1000 in a small space….
…with professional-grade tools and equipment – for up to 60% less than your friends are paying!
Discover how to set up your shop under $1000
Here's what else you'll discover:
Secret sources for buying dirt-cheap Grade A tools that even the PROs don't know about. (Amazon, Walmart, Lowes and even Bargain Outlet are charging WAY more for the exact same items!)
How you can set up a workshop for as little as $1,000… without skimping on quality or "must haves." (You wouldn't believe some of the workshops people create with a budget this small!)
Which tools and machines are absolutely essential to a fully operational workshop where you can create mind-blowing works with ease… and which ones you can do without. (Skip the "ego boosters" and stick to what you need, and you can save $1,000s!)
How you can turn even a TINY space into an impressive workshop that lets you build whatever you desire. (Forget what those slick woodworking magazines say… smaller really is better!)
And many more…
In other words, you will find everything you need to build the perfect shop for yourself.
Here's the Bad News:
Ralph's launch offer is ending so the price WILL increase shortly.
If this is something that interests you, check out the video and take action today And remember, with the 60-day guarantee there is no reason not to give this a shot.
Woodworking is something that has given me so much joy… I know it can be the same for you. You just have to get over the tool and space roadblocks.
That's why Ralph has written this wonderfully detailed guide. And I know you're gonna love it.
Check out Ultimate Small Shop Here
P.S: And it doesn't matter if you have no money, tools or space to set up a shop
Because in the presentation, Ralph will reveal a secret tool source that can save you at least 70% off tool prices. (and its not Harbor Freight…)
Some amazing feedback from Ultimate Small Shop customers
Have you ever done something so bold, but didn't know what other people might think?
That's what Ralph told me when he sat down and start writing and compiling his sources for Ultimate Small Shop.
He knew this was the most definitive guide on shop setup, and he would need a group of woodworkers to verify that.
He knew his resources, tips, shop hacks, layouts, tool lists are carefully created and the secret supplier lists will save woodworkers a ton of money.
But when he finally launched this, Ralph had no idea how it would be received.
So each week, when Ralph received photos of beautiful shops (by the hundreds), he was thrilled, impressed, and honestly moved.
Here, I want to share with you some of the feedback he shared with me for Ultimate Small Shop
George Hardy says:
I set up my first shop in a spare corner last week with the help of this book and I must say it has helped me considerably. Many of the tools I've bought with the list provided has really saved me quite a small fortune.
Tim Simmons says:
Money is always an issue, but more important to me is the subject of time. This book solves both aspects for me. It contains sound advice if you do not wish to overspend on your shop.

Tim Simmons
Marc Berg says:
Many practical ideas for the not-so-rich. Unlike other books I've read, this book has tons of info for folks that don't have cash to burn. There are a lot of great ideas that can be implemented at pretty low cost.

Mark Berg
William Wolf says:
In my opinion this book will be invaluable to anyone setting up a woodworking workshop. It walks you thru setup step by step.

William Wolf
And these unedited, real-life reviews are just a small sample of the feedback Ralph received from the over 2,500 students who have read the book so far.
Seeing this feedback gives me confidence that you will enjoy Ultimate Small Shop as well.
Setup your perfect shop under budget here >>
A quick recap of what you will discover and more:
A hand-tool only shopping list if your budget is under $500 (or if you just want to use hand-tools only)… and direct links to buy them for the best price. (pg 41)
A power tool and hand-tool shopping list if your budget is under $1,000… and direct links to buy them for the best price. (pg 42)
The 5-second trick that keeps your tools and machines in top working condition. The manufacturers won't tell you this for a reason! Do this before and after you start working and you can postpone buying replacement parts for YEARS.
Ralph's secret source for buying tools at HUGE discounts. He once found a Dewalt DW734 12 ½ inch planer for $170 on this site… when Amazon sold it for $399. And NO ONE talks about this place.
The best (and really the ONLY) items Ralph would recommend buying at big box stores like Home Depot and Walmart.
…and the list goes on because this is only ONE of the SIX modules in this guide.
So get your copy of Ultimate Small Shop now >>
---
Back to Summary (Top of the page)
---
4. Sell Your Work – Make money with your woodworking skills!
If you'd like an easy way to earn part-time income by doing something FUN, go check out WoodProfits now.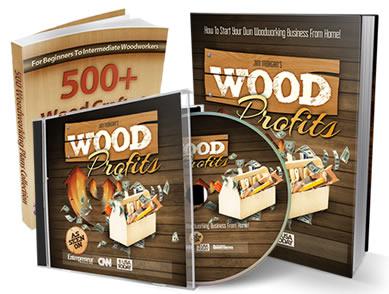 My friend Jim, has successfully run a HIGHLY profitable woodworking business from home, and now you can get his step-by-step blueprint. Read his amazing story here.
It is a no-fluff step by step guide to create a part-time woodworking business, selling easy-to-build wood crafts, from HOME… with little to no capital.
He started out with little carpentry skills and run a business in a 10×20 feet space with almost nothing…
And managed to made $9000 per month as a one-person business within the FIRST year! See how you can also do it…
The cool thing is, you don't have to be an expert woodworker to start this business as it's packed with solid STEP-BY-STEP instructions and information on what to do to turn your passion into profit.
To be honest, the *one-on-one* coaching Jim provides is worth much more than the entire package.
I think he's crazy to offer that at the price but go check it out and judge for yourself:
I think Jim is most underrated teacher on the planet.
I'm not a fanboy of a lot of people. But, one teacher I'm an unrepentant fanboy of is Jim Morgan.
Jim is (IMHBAO) the most underrated marketing mind on the planet, especially when it comes to woodworking businesses.
Example?
Okay, how 'bout these mangoes:
Years ago (2012) Jim gave a presentation at a trade show that completely revolutionized the way I do business.
I remember hearing carpenters doing $100k+ per year in absolute awe at Jim's methods which include:
Setting up a woodworking business from home and be profitable from the very first month
Getting a list of high-margin, easy to sell, profitable niche crafts you can build using BASIC woodworking tools
The Porcupine Theory" that lets you find customers who are "in heat" for your product…
How to tap into the "cycles" of frenzied buying most markets go through
Twelve words that will literally "force" people who have bought from you once… to buy from you again
This info is invaluable. The best part is, it still works today. And, I use many of his methods all the time. It's pretty much what transformed my business.
He compiled everything in his new book: WoodProfits – How To Launch A Home Based Woodworking Business.
Anyway, it's easily one of the best book I've read on woodworking businesses. Yet, hardly anyone knows about it. In fact, if you asked 1000 woodworkers if they've heard it, I doubt more than 4 or 5 would know what you're talking about.
And, unless you were there or have the CD's of that particular presentation well, good luck finding it. That's the bad news.
The good news?
I made a deal with Jim where, if you get his digital book, he'll throw in a bonus entitled: 500+ Top Selling Crafts & Furniture Plans. It contains over 500 plans of his top-selling crafts. Click here to find out more (It's a limited offer, so I apologize if you see this message after the offer has expired.)
---
Back to Summary (Top of the page)
---
5. Pricing Guide – 3 Simple Ways To Price your Work
Key question: How much do you price your work?
Like all things in woodworking, there are many "correct" ways to get the job done.
And no, taking 2X or 3X the material cost is not good enough. Wood can vary in price from $1/bf to $50/bf, so you can see how that system falls apart quickly.
If you want more detail, Jim has written an guide called "Ultimate Pricing Guide for Woodworkers"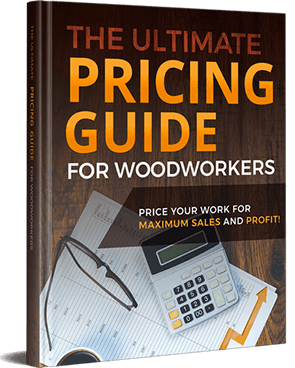 There are basically three schools of thought in regard to pricing non-mass produced work:
The "Four Quarters" school,
The "What Does it Cost?" school, and
The "What is it Worth?" school.
Nearly all mass-produced work I know of uses the "Cost" method to set an initial starting price, then pads the price according to demand.
The "What is it Worth?" school of thought takes very little number crunching but lots of research into your target market.
If there are others producing a product similar to yours, you can shoot for a similar price. If your product is unique, then you will have to do some experimentation to figure out what price the market will bear. And you must keep in mind that "value" is a relative concept.
One pitfall to beware of is posting a low price thinking that this will make it more attractive to a larger number of people. If your product is a common item and several competitors offer a similar item, then yes, offering a slightly lower price than your competition can pull their customers to you. But if the price cut is too deep, or if it is a more artistic piece, this tactic can backfire.
The "What Does It Cost?" school goes about it just the other way around.
Here you figure out what it costs you to make an item, what you must add as your profit and set the price accordingly. Less guesswork, and no pretentiousness, but it takes lots of number crunching. For one thing you must account for everything consumed in making your product, not just wood and screws.
Include all basic shop supplies, electricity, water, and heat for your workshop. Don't forget fees for sharpening blades and bits as well as occasionally replacing bits and blades and buying replacement parts for your tools. These are all Cost Of Goods Sold. (COGS to the accountants among us.)
Then you must figure out how much you need to be taking home every month to pay the household bills: this is your projected labor budget. Add labor costs to the materials costs by figuring how many hours of labor you invest in that product and you're almost there.
Those are the costs. Now you need to decide how much you need as profit to keep your company not just solvent but growing.
If that is too much math for you, you may want to try the "Four Quarters" school of pricing.
With this you say that no more than 1/4 of the item's cost will go to materials, 1/4 to overhead (this covers utilities, insurance, tools, etc.), 1/4 goes to labor and the final 1/4 is company profit. This way instead of projecting all the costs, you set a budget and find ways to stay within that budget.
Speaking of pricing, my friend Jim has launched a new book called "Ultimate Pricing Guide For Woodworkers"
You'll get in-depth strategies with pricing all types of projects and how to maximize your profits.
To see if it's something that can help you, click here to check it out now
People love your work… until they have to pay for it
How much do you agree with this sentence?
Truth is, some people think that woodworkers should just "donate" all of their time, skills & hard work.
They go something like, "Well, this person loves what they do… so they shouldn't be charging so much for their time."
But skilled labor isn't cheap and cheap labor isn't skilled!
In this new guide "Ultimate Pricing Guide For Woodworkers", Jim will show you how to overcome this objection and not only that, convert these skeptics into customers…by knowing how to price and position the right way.
Lets face it. One of the hardest things to figure out when as a woodworker is exactly how much to charge.
Not even just how much to charge, but how to:
charge…
figure out your prices for work…
maximize your sales & profit…
and how to avoid some typical new woodworking business mistakes.
All of that (and more) is covered in Jim's new book "Ultimate Pricing Guide For Woodworkers".
It takes a "Deep-Dive" into pricing your work.
You'll also discover:
How to eliminate the "compete on price" mentality that keeps even seasoned woodworkers from charging what their skills are really worth
A secret way to discover the exact "magic" price that will work best for whatever you are selling!
How to draw ideal customers to you – customers who don't care how much they spend on your works – without having to spend a fortune on marketing and advertising!
How to create a crystal-clear picture of an item's value in your customer's mind… so that they'll realize the item is worth more money BEFORE they even ask you the price!
Over 215 pages of battle-tested, proven strategies and insights to maximize your profits and sales…
---
Back to Summary (Top of the page)
---
6. FREE Shed Plan
Get Instant Access to this Free 12 x 8 shed plan: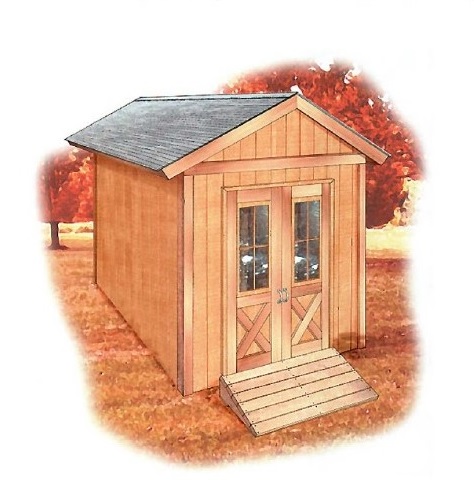 Click here to download this shed plan for free
Sneak peek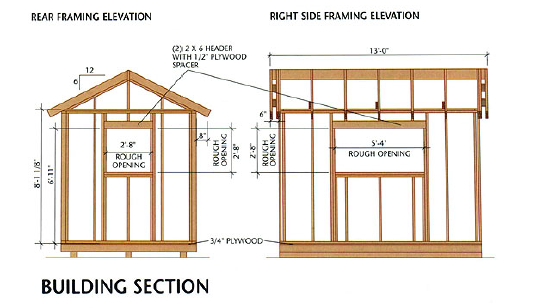 Click here to download this shed plan for free
---
Back to Summary (Top of the page)
---
7. Unlimited Shed Plans – Build sheds easily with this collection of 12,000 plans
If you enjoy building sheds like I do, I have good news for you. You can download 12,000 shed plans!
Get access to 12,000 shed plans >>
Plans So Complete, They Build Themselves!
Ryan is giving away over 12,000 step-by-step and easy to build shed plans…with instructions so precise, they practically BUILD THEMSELVES!
It is simply one amazing collection with the largest amount of shed plans I've ever come across…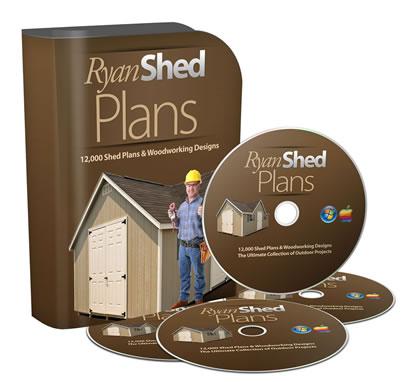 Download over *12,000* fully detailed shed plans and start building your next shed easily and quickly
But you got to act fast because this is a time sensitive offer.
I've been told by Ryan that his special launch price will end in the next few days.
If you want to build sheds the EASIER and FASTER way, then I urge you to get in while the offer is still available.
P.S. If you've any interest in shed building, you owe it to yourself to visit his site. You'll get tons of inspiration simply looking at just a couple of his designs!
One of the reasons why I love Ryan's offer is the fact that it makes building sheds as easy as "lego bricks"
In other words…
You'll never need to worry about cutting the wrong size, spin in circles or waste time trying to figure out what goes where…
With Ryan's detailed shed plans, it makes building sheds a breeze – just like putting lego bricks together!
Check out these awesome sheds you can build in a weekend or less:

If you'd like some help doing this yourself, I'd recommend checking out MyShedPlans 12,000 plans package
You'll be able to create the kind of shed, your neighbors and other woodworkers will secretly ENVY (while mumbling "nice job" under their breath)…
If you're really serious about building sheds without the overwhelm, confusion and frustration, then this is your ideal first step.
Ryan's plans covers every single thing you need to build an impressive new shed that will get the awe and respect of the most seasoned woodworker.
But you have to see them to appreciate what he has put together for you.
Click here to access 12,000 shed plans now
This low price is only for a limited marketing test, so it won't be available for much longer (sorry if you see this offer too late).
If you're even the slightest bit interested, I would grab it now while you still can and while it's still fresh in your mind.
My Review of MyShedPlans
MyShedPlans is a complete guide that explains how you can build a beautiful shed from scratch. Ryan Henderson the writer of the book has given detailed blueprints and step by step instructions that even a beginner can follow. Shed builders can choose from 12,000 shed plans and woodworking patterns.
Accessibility
Once you sign up you will receive the entire package instantly in the Members' Area via downloads. There are easy to follow instructions provided in the members' area just in case you have never downloaded anything from the internet before. After making the purchase you will get all the shed plans and woodworking blueprints within 5 minutes. This means that you get the product for a lower price as there are no shipping costs. However, if you prefer buying the CD then you can buy that and it will be sent to you via mail.
Various Designs
Woodworking can be time-consuming but making the right plans takes even longer. My Shed Plans Elite provide you a wide range of design to choose from and once you have the design you will be able to construct your shed nicely and it will take less amount of time to build it. It keeps all things simple. The aim of My Shed Plans is to make woodworking a fun activity for you. Once you follow Ryan Henderson's instructions making shed will be a less time-consuming and more fun thing to do.
Some of the plans include a Garden bench, How to Build a Fence, Dog Kennel, Making an Easy Arbor,", Swing Pet, Nursery Wagon, Doghouse Plans, Outdoor Fireplaces, Feed Cart, Storage Shed for Pesticide, and a lot more.
Plans for garages and outbuildings too
My Shed Plans Elite provides plans for garages and outbuildings too. You can learn to build Large Garage, Elevated Sawdust Bin, Lawn Tool Storage Cabinet, Garden Windmill, etc. It's a book that enables you become an expert woodworker and complete projects in far less time than you used to.
The book also teaches you how you can build shed that costs less. You will be able to build a good shed much cheaper than the overpriced ready-made sheds that you see. If you have the resources you can build a decent shed for nothing at all.
My Shed Plans Elite will explain everything in detail and you don't have to worry about running out of ideas anymore. My Shed Plans Elite package comes with 2 bonuses. The first one is about foundation, roofing and the second one is about woodworking secrets and contains tips and tricks that may prove very useful. The Total price of My Shed Plans Elite is 47$ and there is a money back guarantee in case you feel like returning the book. What's more, you keep the bonus books that you get with it.
Click here to access 12,000 shed plans now
---
Back to Summary (Top of the page)
---
8. Expert Woodworking Tips & Tricks
And last but not least, Expert Woodworking Tips and Tricks!
Now if you want to build and complete projects far easier and quicker than you've thought possible, check out these 20 ingenious tricks the pros use.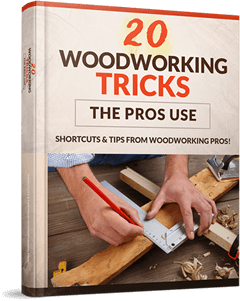 In this book, you'll discover 20 "shortcuts"… either to save time or make woodworking much easier
Shortcuts that'll help you to complete any project perfectly… in the shortest amount of time
20 tricks that will make you go "Aha! Why didn't I think of that before!"
The best part is these are simple, smart and straightforward.
A new simpler way to do something you might have done a hundred times before.
Tricks that'll make woodworking easy and effortless… whether you are an accomplished woodworker or just beginning to set up your workshop.
Not many people know this… Many moons ago, I dropped out of school for a woodworking apprentice course.
I wanted to be just like grandpa, a master craftsman who has made his fortune with woodworking. My family and friends thought I was bonkers. But I knew I was on the verge of something great… just you wait till I have a thriving carpentry business… and a life you're going to envy…
Then, when I finished my first project…
It was terrible.
And I struggled for many years with woodworking after that…
But the thing I discovered is… it wasn't really my fault.
You see, a lot of advice from "experts" make woodworking more complicated than it need to be.
It's no wonder that most beginners get overwhelmed when presented with the typical "expert" advice that requires you to learn 10 new techniques… and have the skills of a master craftsman…
That's why, inside "20 Woodworking Tricks", you get just 20 simple tricks that'll make woodworking simple and effective
When you make things simple, they become easier to understand, easier to execute perfectly
Here's what you can discover:
The Triangle Method: The best way to layout wood for efficient woodworking to cut down 50% of planning time.
The simple (but often overlooked) way to mark cut lines to save time – a great habit to fall into!
A simple "drill bit hack" that gives you perfect holes every time. (the hack that all manufacturers should include but they NEVER do… I'll tell you what it is on page 7…)
Clamp ANY angle with this nifty jig that costs less than $1
And the list goes on.
Many of these tricks are learned from masters of the craft or the author's own experience of 25 years.
Techniques that he used over the past 25 years to complete multiple projects in a day, without expensive tools, a large shop or anything fancy.
And he wants to share them with you. Get your copy here
Why random orbit sanders suck (and how to properly sand wood!)
Woodworking success is mostly about doing the right things, in the right order, in the right way, and this applies particularly to sanding wood.
If you can see marks left behind on your wood by the planer, begin sanding with a 100- or 120-grit abrasive in a belt sander.
If your wood is already smooth to the eye before sanding (or if you've completed sanding with the belt sander), move on to some 120-grit sandpaper in a half-sheet sander.
I much prefer this kind of tool to the very common random orbit sander.
Why?
Random orbits work quickly, but often leave unsightly swirl marks.
A quarter-sheet finishing sander with a 180-grit abrasive is the next best step. It gets you almost all the way.
Finish up with a final hand sanding in the direction of grain using 220-grit paper before finishing.
This ordered, multi-step approach to sanding really works!
Speaking of doing things the right way, if you want more tips like this, check out this guide 20 Woodworking Tricks. It will show you 20 simpler and smarter woodworking techniques!
---
Back to Summary (Top of the page)
Resources
1. Teds Woodworking: 16,000 Woodworking Plans
3. Wood Profits
5. My Shed Plans: 12,000 Shed Plans