Healthy eating is all the rage, and for good reason! As the old Chinese proverb says, "He who takes medicine and neglects to diet wastes the skill of his doctors." Basically, it means that no matter how good the doctor is, a healthy diet is essential for good health.
As a seasoned health enthusiast, I always try to make sure my fridge is stocked with plenty of fresh produce. Yesterday, I was craving the taste of minestrone, so I decided to improvise with the ingredients I had on hand. But did it turn out to be a good idea? Was it worth the effort? Did my family enjoy it? You'll have to keep reading to find out!
May comes with lots of delish foods like asparagus, broccoli, carrots, cherries (depending on your location), spinach and radishes – to name a few – so it's the perfect time to start incorporating more seasonal produce into your meals – if you haven't started already. Not only does it taste delicious, but it also comes with a host of health benefits, from boosting your immune system to supporting your digestion. And if your stomach is happy, half of your problems are gone already, right?
So in this article, here's what you'll find:
Histamines and Healthy Eating
Do you ever get that itchy, scratchy feeling in your throat or nose after eating certain fruits or vegetables? Well, that could be due to the histamines present in those foods! Histamines are naturally occurring chemicals in our bodies that play a role in the immune response, but they can also be found in certain foods, especially those that have been stored for a long time or transported long distances.
When we eat foods high in histamines, our bodies may react negatively, causing symptoms like hives, itching, sneezing, and even difficulty breathing in severe cases. That's why it's important to know about histamines and how they can affect our bodies.
So, what's the connection between histamines and the freshness of fruits and vegetables? Well, when produce is picked, it starts to lose freshness immediately. As it ages, the histamine levels in the food can increase, making it more likely to cause an allergic reaction in sensitive individuals. This is why it's important to eat fresh, local produce whenever possible.
When you buy from local farmers, you are getting produce that is fresher and hasn't been transported long distances. This means that the histamine levels in the food are likely to be lower, reducing the risk of an allergic reaction. Plus, buying local supports your community and can help reduce your carbon footprint.
Top Spring Produce for Healthy Eating
There are so many delicious and nutritious spring produce options to choose from, you won't even know where to start – and these will help you lose weight as well. Let's dive into the top spring produce for healthy eating.
First up, we have asparagus. This green veggie is loaded with nutrients like vitamin C, folate, and potassium, making it great for your immune system, heart health, and digestion. Plus, it's a natural diuretic, so it can help to flush out excess fluids and toxins in the body.
Next on the list is rhubarb, which is often overlooked but definitely deserves more attention. This tart vegetable is packed with vitamins K and C, and it's also a good source of fiber and antioxidants. It's great for bone health and can help to regulate blood sugar levels.
Of course, we can't forget about strawberries! These sweet and juicy berries are a great source of vitamin C, manganese, and folate. They're also high in antioxidants, which can help to reduce inflammation and protect against chronic disease.
Other spring produce options to consider include artichokes, peas, radishes, and spinach. These veggies are all loaded with nutrients and can help to support a variety of bodily functions. For example, artichokes are great for liver health, while spinach is packed with iron and can help to boost energy levels.
Now, I know what you're thinking – all of these nutritious veggies must be expensive, right? Wrong! Believe it or not, many of these spring produce options are actually quite affordable, especially when they're in season. So don't panic – you can still eat healthy without breaking the bank.
Healthy Eating Recipes for Spring Produce
Whether you're a vegetarian or vegan, rest assured that we have got you covered with plant-based options that are bursting with flavor; and if you prefer a more substantial meal, our main dishes featuring fresh spring vegetables will certainly satisfy your cravings, while our smoothies provide a refreshing and nutritious way to start your day.
1. Asparagus and Mushroom Risotto
This creamy and flavorful risotto is made with fresh asparagus and mushrooms, making it a perfect springtime dish. For a vegetarian option, use vegetable broth and omit the Parmesan cheese. For a vegan option, use nutritional yeast instead of Parmesan cheese.
Ingredients:
1 cup arborio rice
1/2 cup chopped onion
2 cloves minced garlic
1/2 cup dry white wine
4 cups vegetable broth
1 pound asparagus, trimmed and cut into 1-inch pieces
1 cup sliced mushrooms
1/4 cup grated Parmesan cheese (or nutritional yeast)
2 tablespoons butter (or vegan butter)
Salt and pepper to taste
Instructions:
In a large pot, heat the broth over medium heat.
In a separate pot, melt the butter over medium heat.
Add the onion and garlic and sauté until softened.
Add the rice and stir until coated in butter.
Add the white wine and stir until the liquid is absorbed.
Add the asparagus and mushrooms and stir to combine.
Add the hot broth one cup at a time, stirring frequently until the liquid is absorbed.
Repeat until the rice is cooked through and creamy.
Stir in Parmesan cheese (or nutritional yeast) and season with salt and pepper to taste.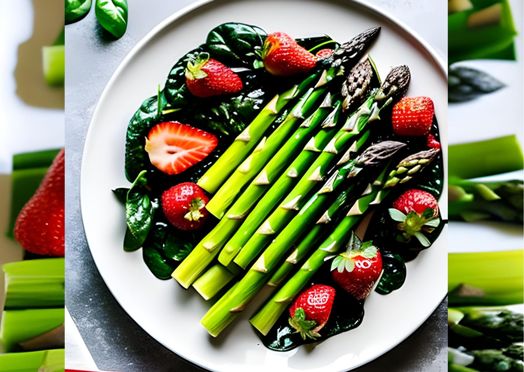 2. Strawberry Spinach Salad
This light and refreshing salad is packed with vitamins and nutrients. For a vegetarian option, use feta cheese. For a vegan option, omit the cheese.
Ingredients:
4 cups fresh spinach
1 cup sliced strawberries
1/4 cup chopped almonds
1/4 cup crumbled feta cheese (or omit for vegan option)
2 tablespoons balsamic vinegar
2 tablespoons olive oil
Salt and pepper to taste
Instructions:
In a large bowl, combine spinach, strawberries, almonds, and feta cheese (if using).
In a small bowl, whisk together balsamic vinegar and olive oil.
Pour dressing over the salad and toss to combine.
Season with salt and pepper to taste.
3. Carrot Ginger Soup
This creamy and comforting soup is made with fresh carrots and ginger, perfect for those chilly spring days. For a vegetarian option, use vegetable broth. For a vegan option, use coconut milk instead of cream.
Ingredients:
1 pound carrots, peeled and chopped
1 onion, chopped
2 cloves garlic, minced
1 tablespoon grated ginger
4 cups chicken or vegetable broth
1/2 cup heavy cream (or coconut milk)
Salt and pepper to taste
Instructions:
In a large pot, sauté onion, garlic, and ginger until softened.
Add carrots and broth, and bring to a boil.
Reduce heat and simmer until carrots are tender.
Use an immersion blender to blend until smooth.
Stir in heavy cream (or coconut milk) and season with salt and pepper to taste.
4. Spring Vegetable Quiche
This savory quiche is loaded with fresh spring vegetables, making it a perfect brunch or dinner option. For a vegetarian option, omit the bacon. For a vegan option, use a tofu-based egg substitute and omit the cheese.
Ingredients:
1 pie crust
1/2 cup chopped asparagus
1/2 cup chopped mushrooms
1/2 cup chopped
red bell pepper 1/4 cup chopped green onions 4 slices cooked and crumbled bacon (omit for vegetarian option) 4 large eggs 1 cup milk 1/2 teaspoon salt 1/4 teaspoon black pepper 1/2 cup shredded cheese (omit for vegan option) 1 tablespoon chopped fresh parsley
Instructions:
Preheat the oven to 375°F (190°C).
In a large bowl, whisk together the eggs, milk, salt, and black pepper.
Add the chopped asparagus, mushrooms, red bell pepper, green onions, and bacon (if using) to the egg mixture, and stir to combine.
Roll out the pie crust and transfer it to a 9-inch pie dish.
Pour the egg mixture into the prepared pie crust.
Sprinkle the shredded cheese (if using) on top of the egg mixture.
Bake for 35-40 minutes, or until the quiche is set and the crust is golden brown.
Remove the quiche from the oven and let it cool for a few minutes before slicing.
Garnish with chopped parsley and serve.
Read More on Healthy Eating…